I've been a patient at The Steadman Clinic in Vail, Colorado, since October 2011, through 6 surgeries and hundreds of hours of physical therapy.
Thanks in part to a team of genius physical therapists, I'm recovering slowly but surely from a complicated and pernicious condition called arthrofibrosis. Their knowledge and my follow through have made all the difference.
Speaking of knowledge…Over the years my physical therapists have worked with lots of patients who follow instructions like the gospel and ultimately recover. They've also had plenty of patients ignore their guidance, ultimately sabotaging their own recovery. Likewise, I've seen plenty of fellow injured-folk who have succeeded, and more than a few who haven't.
Curious about what leads to a successful recovery, I asked three of my PTs, "What are the three most important pieces of injury advice you'd give to athletes in physical therapy?"
Much of what they shared isn't what you'd expect. Consider what follows equal to gold if you want to have a successful recovery–both physical and mental. My PTs know what it takes to get better.
From Kristen Stangel, DPT
1) ESTABLISH A RECOVERY TIMELINE WITH YOUR PHYSICAL THERAPIST
Why it matters
A recovery timeline will help you set goals and have expectations, both of which will ease worry and keep you motivated.
Note: Be flexible and willing to update your goals. Don't get irritated if you don't reach your goals. Readjust, set a new goal, and carry on. You can read more about how setting new goals will help you achieve an optimal recovery here.
Recovery is not linear, so expect some setbacks along the way. Learn more about handling setbacks in my blog here.
2) WORK WITH YOUR PHYSICAL THERAPIST TO FIND SOME TYPE OF MOVEMENT YOU CAN DO
Why it matters
Despite your injury, you still have a strong desire to move. Movement helps diminish stress and decrease pain. Read: it keeps you sane.
Finding new ways to move will use your brain in ways you're not accustomed.
Note: Maybe your new-found activity won't be your forever-love, but it'll become a good friend you can always rely on. You'd be surprised how many (very happy) cyclists used to be runners until they picked up an injury.
3) OCCUPY YOUR MIND–CREATIVITY
Why it matters
I'm not trying to get all preachy when I extol the benefits of practicing creativity. Well, maybe I am. Why? Because I've found it's your most important tool following injury.
Every time you exercise creativity you wear a path in your brain to tranquility. The more worn the path, the more you find freedom from: wondering what you'll do with all the extra time on your hands; jealousy of your friends who can do [physically] what you can't; pent up stress and frustration.
You'll find creativity tips on my Sound Familiar? and The Road Back pages as well as in this blog.
From Luke O'Brien, PT, M.Phty (Sports), SCS
1) MAKE A HEALTHY USE OF YOUR TIME TO MANAGE ANXIETY
Why it matters
Injury and surgery beget extra time on your hands. If you don't occupy yourself with a healthy mental workout, massive anxiety will take up residence in your brain. Trust me, I know all about this. Anxiety wastes your precious energy.
Note: If you're suffering from anxiety that doesn't dissipate in short order, please seek the help of a mental health professional.
For tips on how to get a healthy mental workout–you guessed it–see the section on creativity above.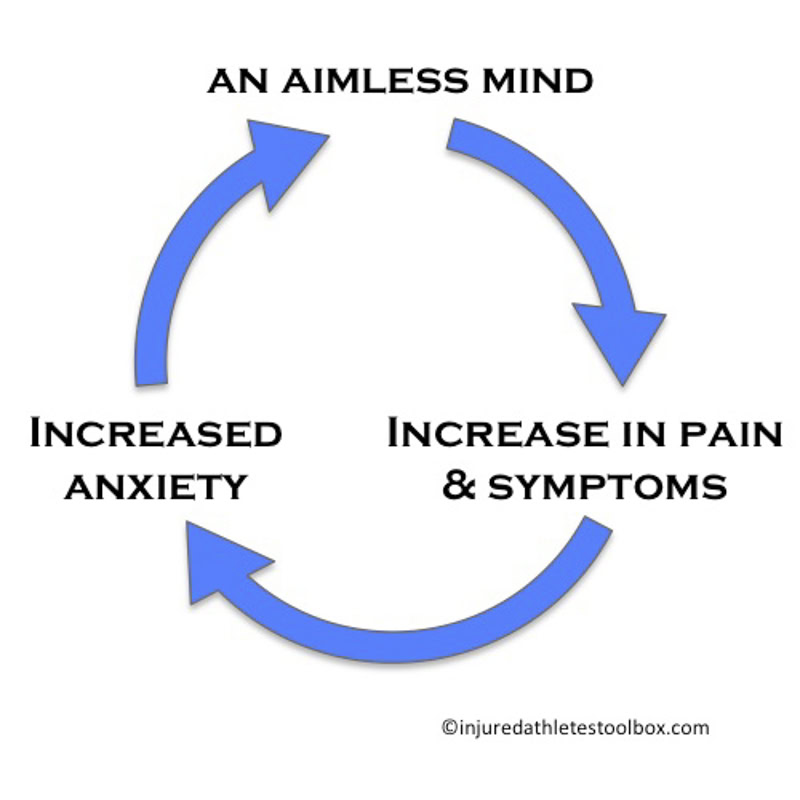 2) DON'T GET GREEDY WITH GAINS
Why it matters
Appreciate when you make progress, but accept recovery includes setbacks, especially when you get greedy. Trying to do too much too soon will hinder your forward progress.
It's easy to assume you'll be able to do more each day, but recovery isn't linear. Just because you ran a mile yesterday doesn't mean you'll be able to run two today. You might not even be able to run one today–follow your instructions and prioritize rest.
Understand by talking with your physical therapist what your new normal is–be it temporary or permanent. Then find ways you can move given your limitations. There is always something you can do. I'm not saying it'll be a blast or feel as good as the sport you love, but it will alleviate some of your stress.
3) MANAGE YOUR EXPECTATIONS
Luke mentioned most people have unrealistic timeframes and expectations of outcomes.
Don't compare your journey with those of other patients. Your history, injury, and rehab are different from everyone else and your recovery will be too; faster than some, slower than others.
Managing your expectations is rooted in one of Kristen's suggestions: establish a recovery timeline with your physical therapist.
Why it matters
Managing your expectations will keep you in the present moment instead of thinking of what you "should" and "could" do. The shoulds and coulds will lead you to make all kinds of bad decisions, not to mention they demoralize and denigrate.
Note: Try not to beat yourself up. Your edge will come back, sharper than ever.
Luke has seen this cycle many times: First, patients try to do too much too soon after surgery; as a result, they experience a flare-up or perhaps another injury; because of flare-up pain, they think something has failed with the first surgery and another surgery is necessary. Don't fall into the cycle!
From Thomas Olson, PT, DPT, SCS
1) YOUR BODY IS GOING TO TAKE AS LONG AS IT NEEDS TO HEAL
Why it matters
Recovery is not a race. Don't sacrifice long-term healing for inflexible goals. Allow yourself to heal on a natural timeline and you will likely return to doing what you love faster.
Wondering how in the world you can find a wee bit of patience? Start by reading my blogs on creativity I linked to above.
2) DO YOUR HOME PROGRAM
Why it matters
If you don't execute your physical therapy homework (this includes restrictions), you won't get better. It's as simple as that.
3) DON'T LOOK AT YOUR GAINS DAY TO DAY
Why it matters
Some recoveries miraculously follow a linear progression; most do not. Most recoveries look more like a sine wave with a long-term upward trend, with one important difference. Know that as time passes, your setbacks won't be as precipitous a fall and their frequency will decrease.
In light of setbacks being a normal part of recovery, compulsively keeping track of day to day gains will leave you thinking, "I'm just not getting any better." Don't let your mind go there.
Tip: Keep a progress journal every day, but use it to focus on long-term trends. Write down your daily activities and corresponding pain level. When you catch yourself saying, "@#$%, I'm not getting any better," look back at your progress journal to check yourself. I bet you have actually made progress; it's just that the gains have been small enough that they're difficult to notice.
Small gains are not a bad thing. Remember: Big gains come from an accumulation of small gains.
Now you have 9 nuggets of gold I wish I had known way back when I had my first injury. I've been recovering from my current injury for more than 7 years now, so I can attest to the fact that all of these suggestions will change the trajectory of your recovery from floundering to flying. Follow them; incorporate them into your daily life.
Now you know how to succeed in your recovery.
Forward>>>Heidi